Archangel's Consort features Raphael and Elena and is the third book in the series.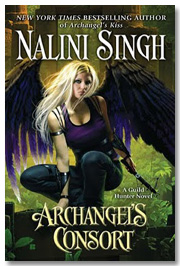 Offical Sypnosis
Edit
Nalini Singh steps back into the shadows of her "heartbreakingly original"* world where angels
rule, vampires serve, and the innocent can pay the greatest price of all…
Vampire hunter Elena Deveraux and her lover, the lethally beautiful archangel Raphael, have returned home to New York only to face an uncompromising new evil…
A vampire has attacked a girls' school—the assault one of sheer, vicious madness—and it is only the first act.
Rampant bloodlust takes vampire after vampire, threatening to make the streets run with blood. Then Raphael himself begins to show signs of an uncontrolled rage, as inexplicable storms darken the city skyline and the earth itself shudders.
The omens are suddenly terrifyingly clear.
An ancient and malevolent immortal is rising. The violent winds whisper her name: Caliane. She has returned to reclaim her son, Raphael. Only one thing stands in her way: Elena, the consort who must be destroyed…
Full Plot Summary
Edit
Write a summary
World-Building
Edit
Characters
Edit
Groups & Organizations
Edit
Supernatural Types
Edit
Things, Objects, Events, Processes, States of Being
Edit
Book References
Edit
↑ Angels' Blood, ch. 1
External Links
Edit
Ad blocker interference detected!
Wikia is a free-to-use site that makes money from advertising. We have a modified experience for viewers using ad blockers

Wikia is not accessible if you've made further modifications. Remove the custom ad blocker rule(s) and the page will load as expected.